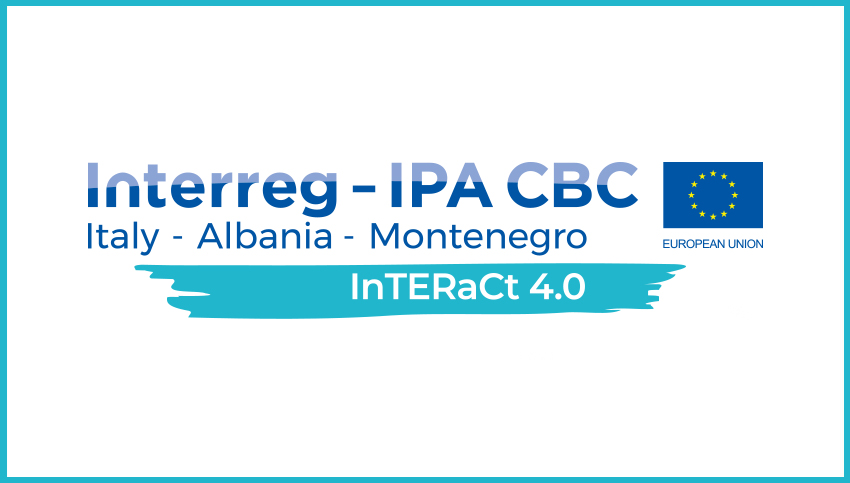 Total budget: € 1.166.515
Partners: Union of Chambers of Commerce and Industry of Albania (UCCIAL) / Business and Economy Promotion Centre (BEPC) / Camera di Commercio di Bari (CCIAA Bari) / Università del Salento – DII / Chamber of Economy of Montenegro (PKCG) / University Mediterranean (UNIM)
The inTERaCt 4.0 – Trilateral EmpoweRment for Change 4.0 project will promote the development of a ICT Platform, aiming at representing the first systematic mapping of the regional entrepreneurial ecosystem, with the purpose of defining a coherent and effective growth strategy. This will be possible through the implementation of 2 key actions:
– The Territorial Analysis, to precisely define the regional entrepreneurial scenario for small and medium enterprises and address their needs in terms of development and smart growth in the European market.
– The Expertise Improvement, to enable SMEs providing for the creation of strategic skills in their staff, with the purpose of exploit the best their potential. Specific attention will be given to the emerging skills related to the spread of a trend in industrial automation, known as Industry 4.0, that integrates some new production technologies to improve working conditions, create new business models and increase productivity and production quality of the plants.
All this information will be made available through an ICT platform that will not only map the ecosystem of SMEs within the territories involved, but will also map the skills that these companies possess.
Project Management, Communication Activities:
-Start Up activities
-Publications
-Public Events
-Digital Activities
Territorial Analysis:
-Identification, mapping and clusterisation of the regional small and medium enterprises, by using internationally accepted indicators.
-Elaboration of a business development strategy, tailored on the needs identified.
Expertise improvement:
-Analysis of the laws and regulations concerning the sector of business training funds and how SMEs can best exploit them.
-Creation of a business training plan model, tailored on the specific territorial SME situation
ICT Platform:
-Analysis and definition of the User Experience
-ICT platform design
Mediterranean Innovation HubRoadshows
ICT platform, through which made available thegeographic mapping, clustering and classification of SMEs in the involved territories, and the mapping of the skills owned by the SMEs themselves, in order to promote a coherent and effective territorial development strategy.
The main result of INTERACT 4.0 will be to achieve the first systematic mapping of the ecosystem related to SMEs, not only regarding the geographical aspect, but also the classification one, according to internationally recognized indicators. Furthermore, the mapping of the skills owned by the companies themselves is a real innovation and a fundamental basis for the definition of a strategy for territorial growth, based on real strengths but which also addresses the shortcomings of the ecosystem. This will be fundamental with a view to developing Industry 4.0, as it will support both companies and policy makers in future planning.