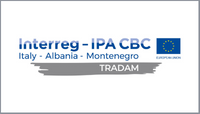 Total budget: € 49.000,00
Partner: Università del Salento  / Bashkimi i Dhomave të Tregëtisë dhe Industrisë së Shqipërisë (UCCIAL)
The TRADAM project aims at creating a network of expertise between industrial and scientific actors in the target areas, in order to promote the cooperative management and integration of transport asset data. Specifically, the purpose is to create a new shared knowledge for a better services' quality, an optimized sustainability, and a specific and context-oriented safety and security strategy for the improvement of transports systems, through 2 international conferences (1 IT + 1 AL) and 1 B2B meeting (AL).
Project Management, Communication:
– Project Management
– Communication plan
– Event Management
– Dissemination
The TRADAM project is meant to promote a fitting use of new technologies and methods to extract value from data, using them to gain information, and exploiting this information to enhance the potentials of the territory.