Start date: Dicembre 2018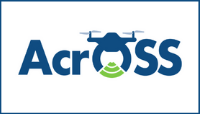 Total budget: € 3.850.062,60

Budget Gruppo: € 879.960,00
Partner: I.D.S. INGEGNERIA DEI SISTEMI S.p.A.,Università del SALENTO, Aeroporti di Puglia S.p.A., TOPVIEW S.r.l., Exprivia S.p.A., Università degli Studi di BOLOGNA 
The AcrOSS project aims at contributing to the safe, efficient and secure integration of sUAS operations in low level airspace, both in controlled (i.e. airport airspace) and uncontrolled airspace, where manned and unmanned traffic coexist. The Project will study and develop innovative on-ground and on-board capabilities and technologies that contribute to increase sUAS traffic situational awareness and to properly manage contingency situations due to dynamic airspace constraints or unexpected events that may have an impact on safe and efficient sUAS operations. 
Thanks to the Project implementation, strong innovations are expected leading to: 
Enhanced safety for all airspace actors;

 

New procedures for the actors involved in 

sUAS

 operations;

 

Contribution to standardization of the new CONOPS and recommendations for guidelines and regulatory

 

task forces;

 

Unlocking of new potential markets in BVLOS and autonomous operations in sensitive areas;

 

Innovation actions through the development of new enabling on-board and on-ground capabilities and

 

technologies;

 

Reduced barriers to equitable access to airspace for all VLL airspace users.

 
Design and development of a support system for dynamic traffic control – UAS side and Tower side;

 

Design and development of a platform for the provision of notification and authorization services (N&A);

 

Drafting of guidelines and recommendations;

 

Communication activities and dissemination of results;

 

Contribution to CONOPS and requirements definition; 

 

Contribution to the design and development of a platform for scenario simulation and investigation through playback;

 

Contribution to the integration and testing of developed subsystems;

 

Contribution to the execution of flight test campaigns and simulations.

 
sUAS

 operation regulatory framework analysis, 

 

CONOPS and requirement definition 

 

Design and development of the following components:

 
Drone traffic dynamic control supporting systems, in critical areas, at both UAS side and ATC side;

 

Multi-

channel

, multi-

constellation

 Drone box;

 

Enhanced UAS solution – Tethered and non-tethered;

 

Innovative Notification and Authorization (N&A) service platform;

 

Enhanced small drone radar-based detection and tracking system (DTS) for airport application;

 

Scenario simulation and playback Investigation Platform (SPI).