Start date: 01/02/2014

End date: 31/05/2016

Duration (months): 28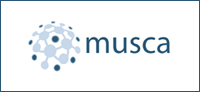 Total budget: € 998.100

Lab Budget: € 184.100
Number of partners: 4

Partners: Advantech s.r.l., CICII – Università del Salento, Selex ES SpA, SPHERA. s.r.l.
The MUSCA project aims to create an innovative integrated system able to analyze, plan, investigate multi-modal data sources. The data are extracted from the main platforms for social networking and communication tools.
This project will define new models and innovative techniques of web data crawler, semantic analysis, and reputation computing. Finally, it will be implemented a dashboard for a complete data analysis and visualization that will aim to validate the technologies investigated, the architecture and the system requirements.
The core of the platform MUSCA regards the monitoring activities as a listening plus understanding process, where technology, analysis and communication competences are used together to identify and control the reputational trends observable in the web.
The tool will consist mainly of the following modules:
– A crawler to collect the data extracted from all major social networks;
– A semantic analyzer for the sociograms construction, based on content analysis performed on exchanged information;
– A SNA computation engine, for social network analysis metrics and community detection;
– A reputational computing tool;
– A dashboard for the integrated and dynamical visualization of statistical reports (social analytics and web analytics);
– A prototypal module based on multi-agent models for reputational computing.
Within this project the research partners adopts or develops innovative models and techniques of semantic analysis, graph theory and network dynamics, to build a new paradigm for brand monitoring. A dashboard embeds all the modules as above, and basic visualization tools. This offers the opportunity to validate the architectural approach adopted, as well as its technical implementation.
The SNA research group contributes to the MUSCA project providing its tenyear experience on Social Network Analysis models and tools. The group works on information processing and decision making models inspired by cognitive models of quantum mechanics, in order to interpret social phenomena and detect communities.
The MUSCA platform integrates crawling, analytic and predictive capabilities, in order to address simultaneously the most important needs of those brands, considering their reputation an important asset.
Input data are crawled from major social networks, as well as web news feeds: a multi-channel extraction from diverse online sources.
A further layer filters, classifies and tags the input information through Natural Language Processing techniques.
Unsupervised sentiment analysis algorithm are developed to calculate the text polarity.
The social network analytics and predictive capabilities are the core distinctive features of MUSCA, compared to existing brand monitoring solutions.
Advanced algorithms identify the roles of the people in the social network, providing insightful indication about key influencers.