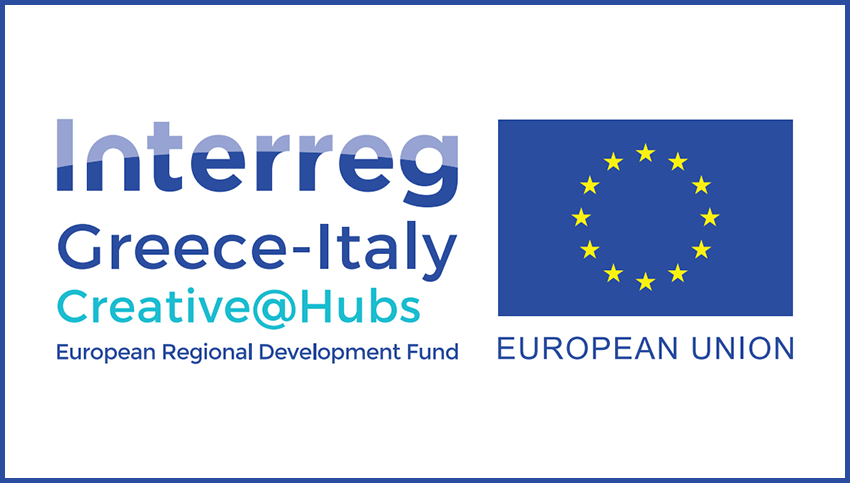 Total budget: € 10.000.000
Partners:

REGION OF WESTERN GREECE
HELLENIC REPUBLIC REGION OF EPIRUS REGIONAL UNIT OF THESPROTIA
REGION OF IONIAN ISLANDS
REGIONE PUGLIA
The enormous cultural and natural heritage of western Greece, the Ionian Islands, Epirus and Puglia is an asset capable of stimulating economic growth and improving people's quality of life. The "Creative Industries (CI)" are one of the most dynamic sectors of the world economy and include all the companies that have as their core business the ability to create.
The aim of the CREATIVE@HUBS project is to leverage the intellectual and social process of this industrial sector, to achieve the production of new ideas, concepts, plans, connections, processes and clusters in the following thematic and geographical areas:
Theatres, cinemas, street art, aromatic plants, carnival and technologies in western Greece;
Tourism and culture in Epirus (with emphasis on crafts);
Culture and creative economy for the Ionian Islands (with a focus on music);
Agriculture and agri-food production for the enhancement and marketing of agricultural, fish, typical and traditional products in Puglia.
The result of CoreLab activities are the follow:
Analysis of LL methodologies a best practices definition
Collaborative Meeting on LL management practices and technologies
Support in the organization of seminaries focused on cultural and creative industries for rural development, strategies and business models.
Call for action and networking meetings for young entrapreneurs and companies
WP4 – D4.4.1 – Co-design activities
Task 1 – Review of the literature on living lab methodologies, research, and analysis of successful use cases on international living labs in rural areas
Task 2 – Definition of a list of best practices useful to complete the methodological knowledge base coming from Task 1 and conduct the living lab of Creative@Hubs
Task 3 – Analysis of Design thinking and Human centered design tools and identification of tools useful for co-creation and collaboration activities
Task 4 – Organization of participatory contamination meetings on the following topics: best practices for the management of the LL, technological tools for participation in the living lab, Technologies able to promote the sustainability of agri-food companies, marketing strategies to meet the emerging information needs of contemporary consumers.
WP4 – D4.4.2 Organization of horizontal seminars on Management and Entrepreneurship in the Cultural and Creative Industry (ICC)
WP5 – D5.4.1 (a) Animation of the LL – involvement of young innovators
Task 1 – Planning of calls for innovation on issues related to methodological, technological and process innovation in rural areas and agri-food
Task 2 – Selection of proposals.
Task 3 – Organization of networking sessions
Task 4 – Involvement of the selected young people in the activities of the Living lab.
Task 5 – Definition of the targets (age, professional profile, etc.) to be involved based on the type of living lab event.
WP5 – D5.4.1 (b) – Animation of the LL – involvement of rural companies
Task 1 – Provide support in strategies, business models and technological development
Task 2 – Definition of a strategy to collect feedback from the pilot, for monitoring and implementing continuous improvement and collecting feedback.